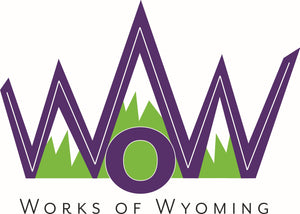 Why visit Works of Wyoming Gift n Gallery?
You will want to check out Works of Wyoming Gift n Gallery as you visit or pass through Laramie, WY.
Laramie is located along Interstate 80. It is west of Cheyenne, WY and east of Rawlins, Wyoming. It is also a close drive to Vedauwoo for hiking, climbing, biking and cross country skiing. To the West lie the Snowy Mountains, in the Medicine Bow National Forest. Be sure to leave I-80 and take the 130 Scene Byway over the mountains to enjoy pristine mountain lakes, wildlife, hiking, camping, fishing and more!
We are the only store, in Laramie, that carries only Wyoming made gifts and art, created for you by Wyoming Artists! Artists must reside in our Square State of Wyoming! Browse our shelves for unique art and gifts of wildlife, landscapes, skyscapes, University of Wyoming themed products, Indian Paintbrush, our state flower, the fleet of foot pronghorn
antelope and so much more!
We have something for everyone in all sizes and price ranges! Our Artists are scattered across the state, so look no further for photos and art of Snowy Range, to the Grand Tetons, the Wind Rivers, Big Horn Mountains to Devil's Tower and back.
Meet Sheriff Gusty, our store's mascot!  https://www.facebook.com/SheriffGusty
Sheriff Gusty has left Laramie, as he  was needed in the Southern states to tend to the rowdy crowd!
Check out our online store, that is growing daily with more products! Shop from the convenience of your home! www.worksofwyoming.com .
While in Laramie, you may also want to visit the University of Wyoming's Campus and explore the Geology Museum ( Mr. T-Rex will greet you at the door ), the Anthropology Museum, Art Museum and more.  Be sure to plan a visit to the Wyoming Territorial Prison,where Butch Cassidy spend his first night.
---