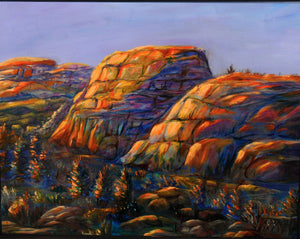 April 2022 Artist of the Month: Melonie Jones
The Artist of the Month is Melonie Jones.
Melonie was born and raised in Michigan. She spent 21 years as a military [USAF] spouse and is the mother of two sons.  She retired and moved to Laramie, WY in 2015.
She returned to her first love of art. She mainly does oil paintings. One of her paintings is called, "Weeping Willow", this is a painting of a green weeping willow on the side of a beautiful blue river. Her artwork style is quite lovely. In this painting you can see the details in the leaves, the shading on the river, the shading on the ground, and you can see the sunlight shining thru.
Another painting of hers is called, "Sunflower Kisses", this a painting of a field of sunflowers. On this painting there are three sunflowers, you can see the details in the sunflowers, you can see the detail in the sky, and you can see where the sunlight is coming from.
 Another painting of hers is called, "Eden", this painting is a red apple attached to a tree branch with lots of green leaves. The red apple and the background with the leaves has great shading, it also shows a lot of detail.
 Most if not all of her paintings are on greeting cards.
Each month an artist will be chosen to be the Artist of the Month at Works of Wyoming, which hosts an Artist Reception, the last Friday of each Month.
The Artist's reception is open to the public and  the address is 300 S 2nd St, Laramie WY 82070 on April 29, on a Friday. There will most likely be pictures posted on Facebook, our Facebook is, "Works of Wyoming (WOW)".
The store will be open 10am-6pm and the  gathering will be open from 4pm-6pm. At the gathering you can meet the artist of the month, ask questions about the art piece and how they made it, meet new people, eat some snacks, and have a great time.
By Ivy D.
WoW Art Intern
---