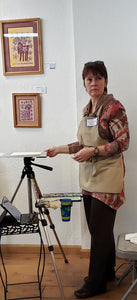 2023 August Artist of the Month - Svetlana Howe, Watercolor Artist
Svetlana Howe, our artist of the month this August, is an award-winning watercolor artist. Her beautiful artworks have been part of Works of Wyoming (300 S. 2nd St, Laramie, Wyoming) for more than five years.   
Svetlana loves painting local landscapes and flowers. The beauty of this western land's prairies, soothing colors, stunning cloud formations, mountain vistas, and amazing skies continually inspire her to capture Wyoming's many moods in her watercolors. "I have a great passion to express the wonder of God's creation using this fascinating media," says Svetlana.

Watercolor Artist: Svetlana Howe, demonstrating an original watercolor.


View her original watercolors, matted prints, cards, magnets, and stickers at the WoW online store here:  
https://www.worksofwyoming.com/collections/svetlana-howe-water-color-artist
In recent years, Svetlana has experimented with painting "wet on wet". This is a technique in which paint is applied to moistened paper. For more dramatic results, she often infuses both sides of the paper with water. Working on wet paper, you cannot foresee final result, since the painting remains "in motion" until it dries completely. It requires the artist to be precise in the choice of color, tone, and composition, but it generates exciting and unpredictable color blends, super soft edges, luminous reflections, and spontaneous color gradation. 
" Clouds " Framed Original Watercolor by Svetlana Howe. Clouds over a blue, Wyoming lake.
Svetlana was born and raised in Russia. Early in her life she became fascinated with different aspects of design and fine art, especially paintings made with ink and watercolor. She learned the basic principles of composition, perspective and art techniques during her Youth Art School. After high school, she completed Technical University with MA in mechanical engineering, and for some time she taught technical subjects at Saratov Industrial College. But her passion for art brought her back, and she obtained an MFA at Saratov State Art College with a major in fine art and fashion design. At that time, she started her own business as a designer, which she did for seven years until moving to the US. 
Once Svetlana moved to the United States, she began focusing more on fine art, and has been a member of several fine art galleries across the Front Range. In Laramie, she taught classes at the Laramie Community College and the Eppson center for several years.   
 "Rocks, More Rocks " Framed original watercolor. Lookout Lake in the Snowy Range Mountains of Medicine Bow Nation Forest, Laramie, Wyoming.
Come in and see her work today and add your name to her email list to enter a drawing for an original lake scene and see her new works as they come in! This matted watercolor will be given away at her reception Friday, August 25th, 4-6 pm. Need not attend in person to win.  
The reception will be held at Works of Wyoming, located in the heart of downtown Laramie at 300 2nd St, the corner of 2nd Street and Grand Avenue. There will also be light refreshments and a chance to talk with Svetlana about her work!  
---