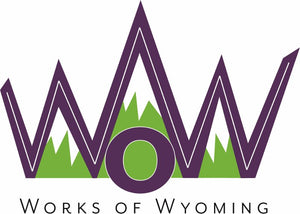 Sharing Wyoming Art Coast to Coast!
It is finally happening! 
Welcome to Works of Wyoming
Gift n Gallery Online!
We are able to share the beauty and uniqueness of our local Wyoming Artists to those outside of our area, availability to our past customers coast to coast and provide exposure to our artists as they grow their businesses. 
As I type this, our winter is in full swing with snow, wind and  13 degree temps. The Holidays are past and in our retail store, in Laramie, WY, we create the next display, put out more inventory, that is a continuous flow as the Artists complete new pieces.
We begin a new chapter for Works of Wyoming Gift N Gallery, an Artist Development Center: a project of the non-profit Wyoming Women's Business Center. 2020, we move into our 9th year of supporting and promoting Wyoming Artists. We are excited to share with you unique, quality home decor and gifts, inspired by our Wyoming Lifestyles. Every purchase supports a Wyoming Artist and also our local and statewide community, as those funds are channeled back into local communities.
We encourage you to reach out to us with any questions or comments. We'd love to hear from you!
Lorena
Retail Manager
---
2 comments