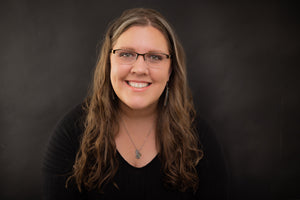 2023 July Artist of the Month - Allison Pluda - Fine Art Photography
Allison Pluda, Fine Art Photographer
"New Poster Prints of the Snowy Range and Vedauwoo"
Our Artist of the Month this July is Allison Pluda, a fine art photographer known for her metal prints, starscapes, and nature scenes. Her work has been displayed in many fine art galleries and exhibitions, and her work is part of private collections worldwide.

Allison studied at Michigan State University and the University of Wyoming as a geologist. In 2007, she quit her job as an environmental consultant to found Seneca Creek Studios, and hasn't looked back since. 
"Boxed Greeting Cards"
Individual Cards are also available.
Allison's work is available at Works of Wyoming, 300 S 2nd St, Laramie, Wyoming, where she sells ornaments, magnets, cards, and metal and poster prints. She also offers portrait sessions and marketing and design commissions in addition to her fine art photographs on her online studio and gallery.  View her work available at WoW here: https://www.worksofwyoming.com/collections/allison-pluda
 In addition, Allison participates in the Wyoming Women's Business Center Business to Business program, which helps clients of the WWBC promote their work by setting up and funding professional photo shoots.

Allison is passionate about reconnecting people with the natural beauty that she sees in everything, whether she is out under the stars or doing a photo shoot in the studio. The stunning colors and composition of her work demonstrate her dedication to finding the best ways to capture Wyoming's luminescent skies and mountains.
"Indian Paintbrush", Wyoming's State Flower, greeting card
Come in and see her work today, or join us at her reception July 28th, 4-6 pm, at Works of Wyoming, located in the heart of downtown Laramie at 300 2nd St, the corner of 2nd Street and Grand Avenue. 

Light refreshments will be available. Come down and chat with one of WoW's amazing artists!
"Big Boy Steam Engine with Downtown Laramie Reflection"
"Pronghorn Herd Metal Ornament"
---