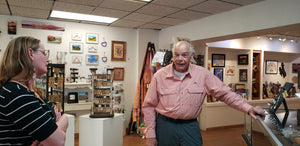 2023 May Artist of the Month - Tom Gaddis
Variety of carved jade, jewelry, and sculptures by Laramie, Wyoming Artist, Tom Gaddis on display for his Artist Reception.
14" Disc Stone Wyoming Fossil Fish in Custom Base
Various carved jade, in many color variations, as focal pieces for necklaces.
Jade Carver, Tom Gaddis vising with Reception Guests.
---